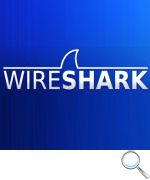 [1]
Wireshark is a free packet sniffer computer application. It is used for network troubleshooting, analysis, software and communications protocol development, and education. In June 2006 the project was renamed from Ethereal due to trademark issues.
The functionality Wireshark provides is very similar to tcpdump, but it has a GUI front-end, and many more information sorting and filtering options. It allows the user to see all traffic being passed over the network (usually an Ethernet network but support is being added for others) by putting the network card into promiscuous mode.
Wireshark uses the cross-platform GTK+ widget toolkit, and is cross-platform, running on various computer operating systems including Linux, Mac OS X, and Microsoft Windows. Released under the terms of the GNU General Public License, Wireshark is free software.
Feature Set:
Deep inspection of hundreds of protocols, with more being added all the time
Live capture and offline analysis
Standard three-pane packet browser
Multi-platform: Runs on Windows, Linux, OS X, Solaris, FreeBSD, NetBSD, and many others
Captured network data can be browsed via a GUI, or via the TTY-mode TShark utility
The most powerful display filters in the industry
Rich VoIP analysis
Read/write many different capture file formats
Capture files compressed with gzip can be decompressed on the fly
Live data can be read from Ethernet, IEEE 802.11, PPP/HDLC, ATM, Bluetooth, USB, Token Ring, Frame Relay, FDDI, and others (depending on your platfrom)
Decryption support for many protocols, including IPsec, ISAKMP, Kerberos, SNMPv3, SSL/TLS, WEP, and WPA/WPA2
Coloring rules can be applied to the packet list for quick, intuitive analysis
Output can be exported to XML, PostScript®, CSV, or plain text