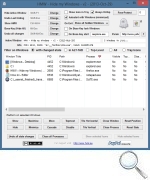 HMW – Hide my Windows v3
HMW is a free program to hide away the Windows on your desktop. With HMW you can set any program Window as hidden, while the program itself will run silently in the background. Additionally all the Hotkeys used can be customized to your needs.
With HMW you can improve your "Visual Privacy". No-one looking at your desktop will see instantly what programs you're running anymore.
You can hide away programs which have long processing runs, cluttering your desktop and impairing the overall usability.
HMW is fully portable, the settings are stored in a "hmw.ini" file created in the program's directory.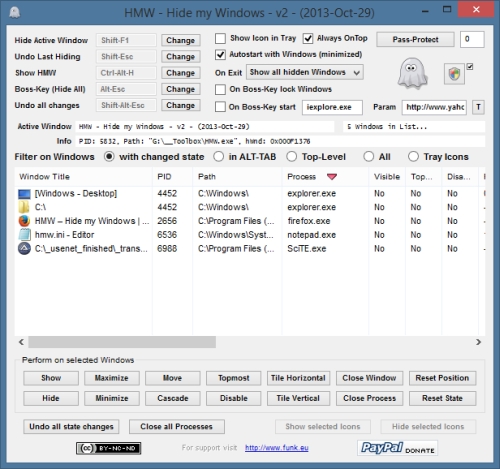 If you find any bugs or limitations please let me know.

If you want to use this on
Linux
but are unable to find suitable software, then checkout
mapmywindows
, a program which was directly inspired by this tool and was made to fill the gap. It is available under MIT license and you can download it free of cost just like HMW!
License & Disclaimer
License
This program is freeware under a Creative Commons License "by-nc-sa 3.0", and this means, you are free to share, to copy, distribute and transmit the work, to remix and to adapt the work under the following conditions:
Attribution – You must attribute the work in the manner specified by the author or licensor (but not in any way that suggests that they endorse you or your use of the work).
Noncommercial – You may not use this work for commercial purposes.
Share Alike – If you alter, transform, or build upon this work, you may distribute the resulting work only under the same or similar license to this one.
For any reuse or distribution, you must make clear to others the license terms of this work. Any of the above conditions can be waived if you get permission from the copyright holder. Nothing in this license impairs or restricts the author's moral rights.

For any form of distribution of this software a link back
to the authors website at http://www.funk.eu is required.
Disclaimer
This program is distributed in the hope that it will be useful, but
WITHOUT ANY WARRANTY
The Author of this Software expressly disclaims any warranty for the SOFTWARE PRODUCT. The SOFTWARE PRODUCT and any related documentation is provided "as is" without warranty of any kind, either express or implied, including, without limitation, the implied warranties or merchantability, fitness for a particular purpose, or non-infringement. The entire risk arising out of use or performance of the SOFTWARE PRODUCT remains with you.
NO LIABILITY FOR DAMAGES
In no event shall the author of this Software be liable for any damages whatsoever (including, without limitation, damages for loss of business profits, business interruption, loss of business information, or any other pecuniary loss) arising out of the use of or inability to use this product, even if the Author of this Software has been advised of the possibility of such damages. Because some states/jurisdictions do not allow the exclusion or limitation of liability for consequential or incidental damages, the above limitation may not apply to you.
It works fine at least on the 32bit XP SP3, Win7 64bit, Win8.1 64bit and Win10 machines I tested it on.
Thanks to all these great guys from the forum, providing excellent UDFs or snippets of code I use in HMW:
Ascend4nt, Prog@ndy, UEZ, Yashied, Tuape & wraithdu.

http://www.autoitscript.com/forum/index.php
Used AutoIt Versions
AU 3.3.6.1 up to HMW 1.4
AU 3.3.8.0 up to HMW 1.5
AU 3.3.8.1 from HMW 2.0
AU 3.3.14.5 from HMW v3