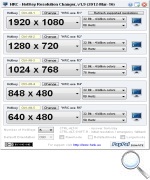 HRC – HotKey Resolution Changer v2.1
Do you also have a multi monitor setup and are annoyed
with always having to change the resolution manually?
Then HCR will be as helpful to you as it is to me…
–
Starts minimized (add shortcut to StartUp to start with windows)
–
Sits silently in the tray
–
Define 2 to 9 shortcuts for different resolutions
–
Switch resolution with just a keypress!
–
The HotKeys can be customized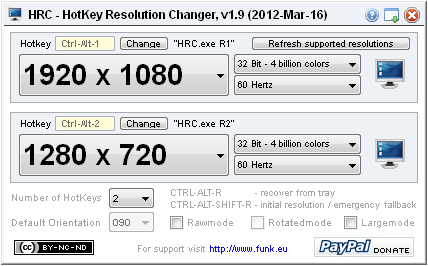 License
This program is freeware under Creative Commons License "by-nc-sa 3.0", and this means, you are free to share, to copy, distribute and transmit the work under the following conditions:
Attribution – You must attribute the work in the manner specified by the author or licensor (but not in any way that suggests that they endorse you or your use of the work).
Noncommercial – You may not use this work for commercial purposes.
Share Alike – If you alter, transform, or build upon this work, you may distribute the resulting work only under the same or similar license to this one.
See also http://creativecommons.org/licenses/by-nc-sa/3.0 for details.

For any form of distribution of this software a link back to the authors website at http://www.funk.eu is required.
Version 1.0 should fix the UAC prompt bug.
Version 1.1 fixes a DEP (Data Execution Prevention) issue which made HRC silently crash on start and a hotkey assignment bug, which made the set hotkeys not being saved.
Version 1.2 should fix another "save settings" issue
Version 1.3 fixes a stuck command key (ctrl, alt, win, shift) and another "save settings" issue
Version 1.4 fixes a HotKey assign problem
Version 1.9 added display rotation support
Version 2.0 added some additional command line switches (check help-screen / question mark on main GUI)
Version 2.1 fixes hotkeys stop working after some time using HRC on a Win7 machine. The hooks are de-activated and re-activated every three minutes in the background now.

HRC is not able to deal with multi-display settings like different resolutions and extended or mirrored displays yet. Those settings still have to be made manually.

HRC was created with AutoIt, visit the forum at


http://www.autoitscript.com/forum/index.php
Disclaimer
This program is distributed in the hope that it will be useful, but
WITHOUT ANY WARRANTY
The Author of this Software expressly disclaims any warranty for the SOFTWARE PRODUCT. The SOFTWARE PRODUCT and any related documentation is provided "as is" without warranty of any kind, either express or implied, including, without limitation, the implied warranties or merchantability, fitness for a particular purpose, or non-infringement. The entire risk arising out of use or performance of the SOFTWARE PRODUCT remains with you.
NO LIABILITY FOR DAMAGES
In no event shall the author of this Software be liable for any damages whatsoever (including, without limitation, damages for loss of business profits, business interruption, loss of business information, or any other pecuniary loss) arising out of the use of or inability to use this product, even if the Author of this Software has been advised of the possibility of such damages. Because some states/jurisdictions do not allow the exclusion or limitation of liability for consequential or incidental damages, the above limitation may not apply to you.